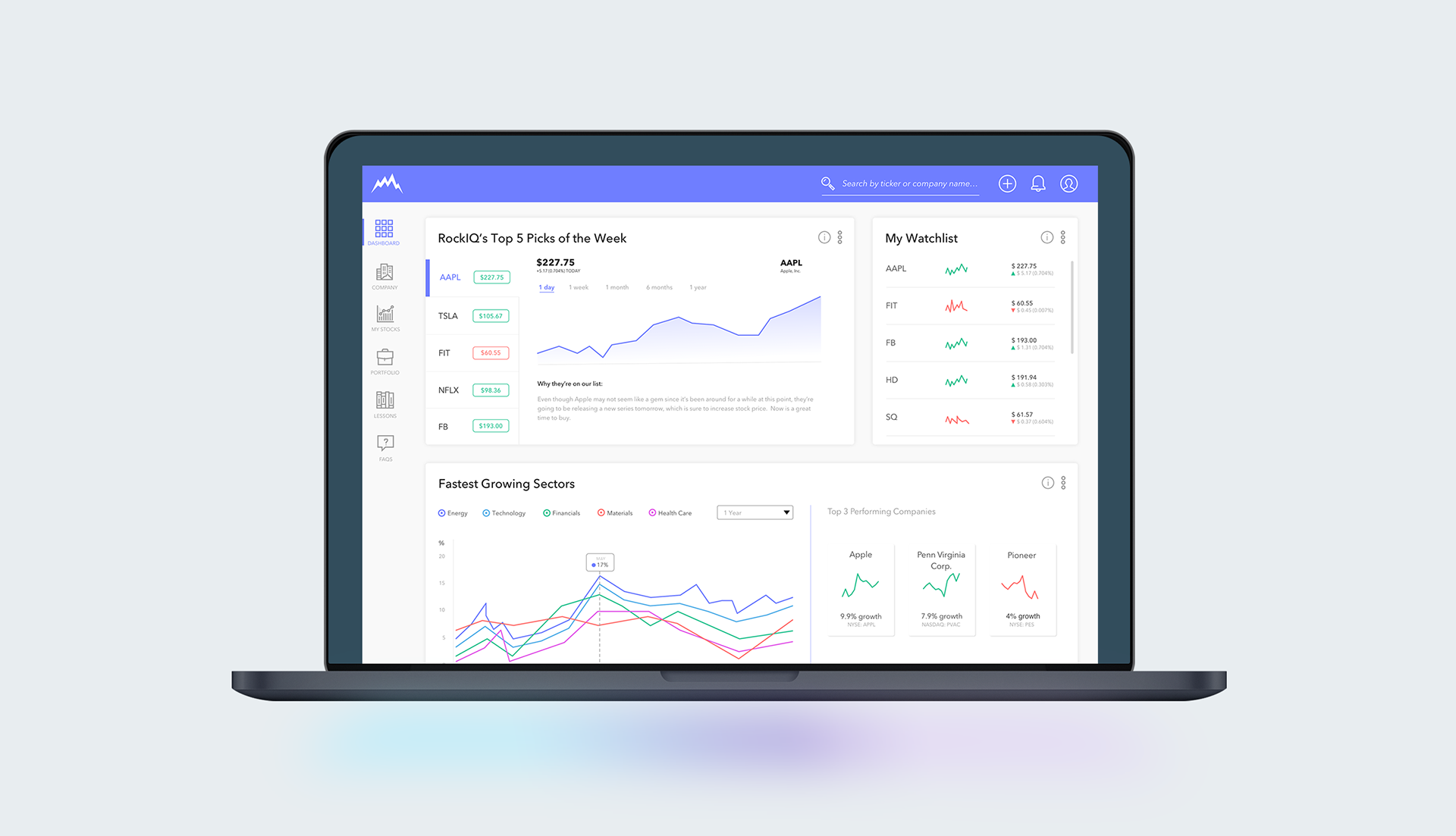 Overview:
RockIQ is a stock information and data aggregation web app.  Because they were a very early stage company, the scope of the project was to build an MVP of their product.  
The MVP consisted of a user dashboard and a company detail page.  In addition to the MVP, we also created a style guide for the company to inform our design decisions - specifically for color and typography.
The team for this project consisted of 6 product designers including myself.  I was active throughout the entire design process and also led the hi-fi phase. 
The main problem that we encountered throughout the design process was that RockIQ's original goals and features did not exactly match our users' needs and goals.
 After pivoting, and finding traction through a slightly different direction, we were able to design a successful product for our client.
Customer Interviews:
After doing a round of competitive analysis to understand similar products in the same space, our team decided to conduct customer interviews to better empathize with users' main problems when it came to stock research.  This was especially important because RockIQ originally was based around a machine learning system that would recommend stocks to its users based on social sentiment analysis (how the stock was perceived and talked about in the news and on social media) - and we needed to understand if users valued that feature.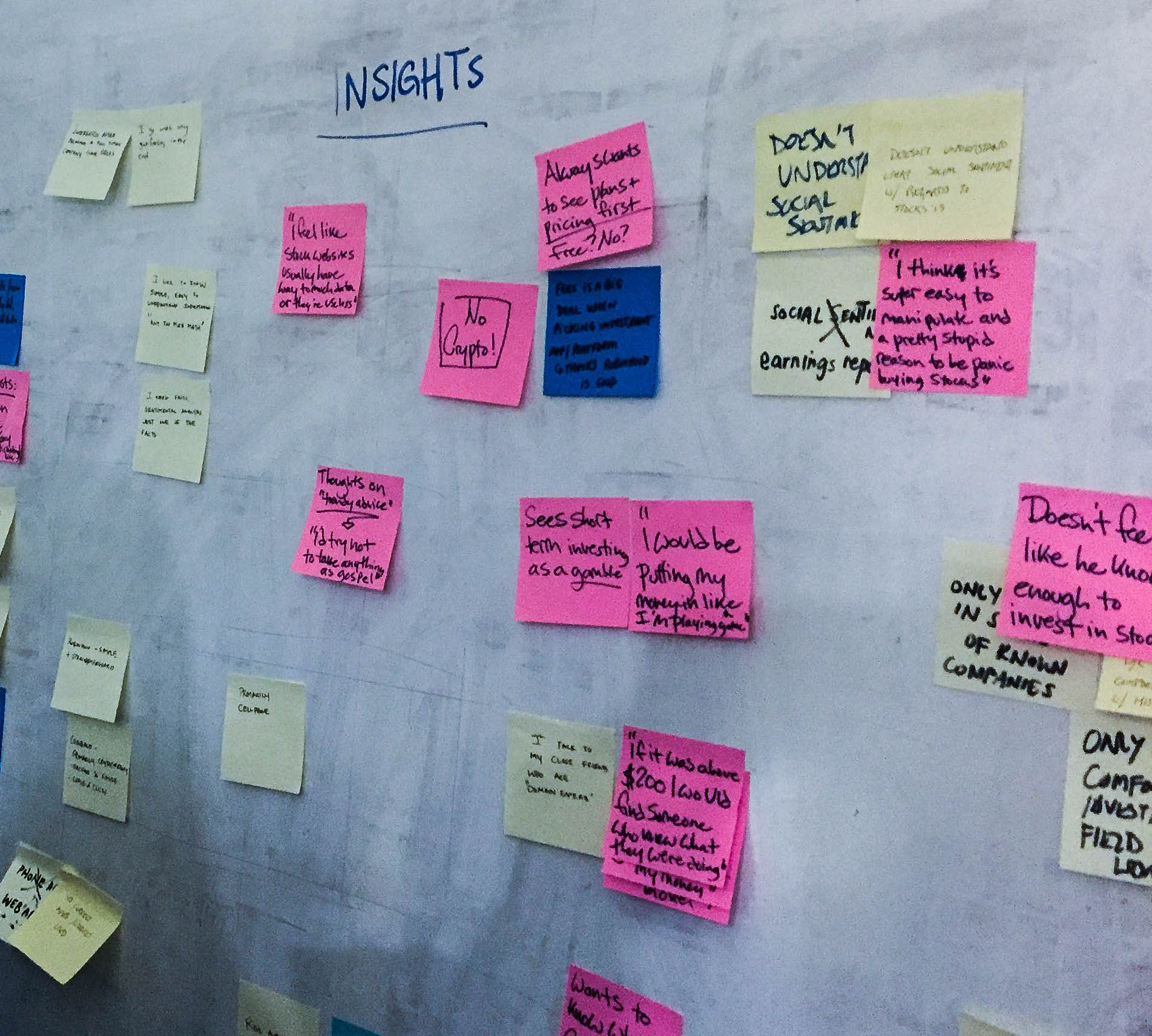 They did not.  Our most important takeaway from our interviews was that both new and experienced investors alike were very skeptical of a product based around social sentiment analysis.
Personas:
Our interviews did tell us that users would benefit from a stock aggregation web app - which was originally going to be RockIQ's secondary feature.  With this information and our numerous other results, we were able to develop two personas whose needs and goals fit what RockIQ was offering.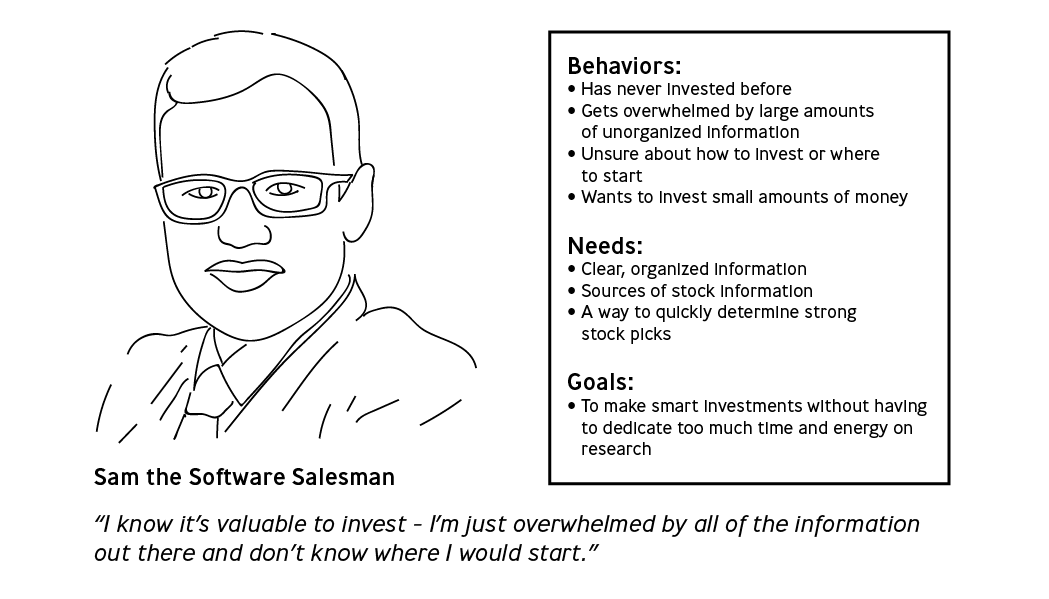 Ideate:
With our personas' behaviors, needs, and goals in mind, it was time to create sketches for what our MVP would look like.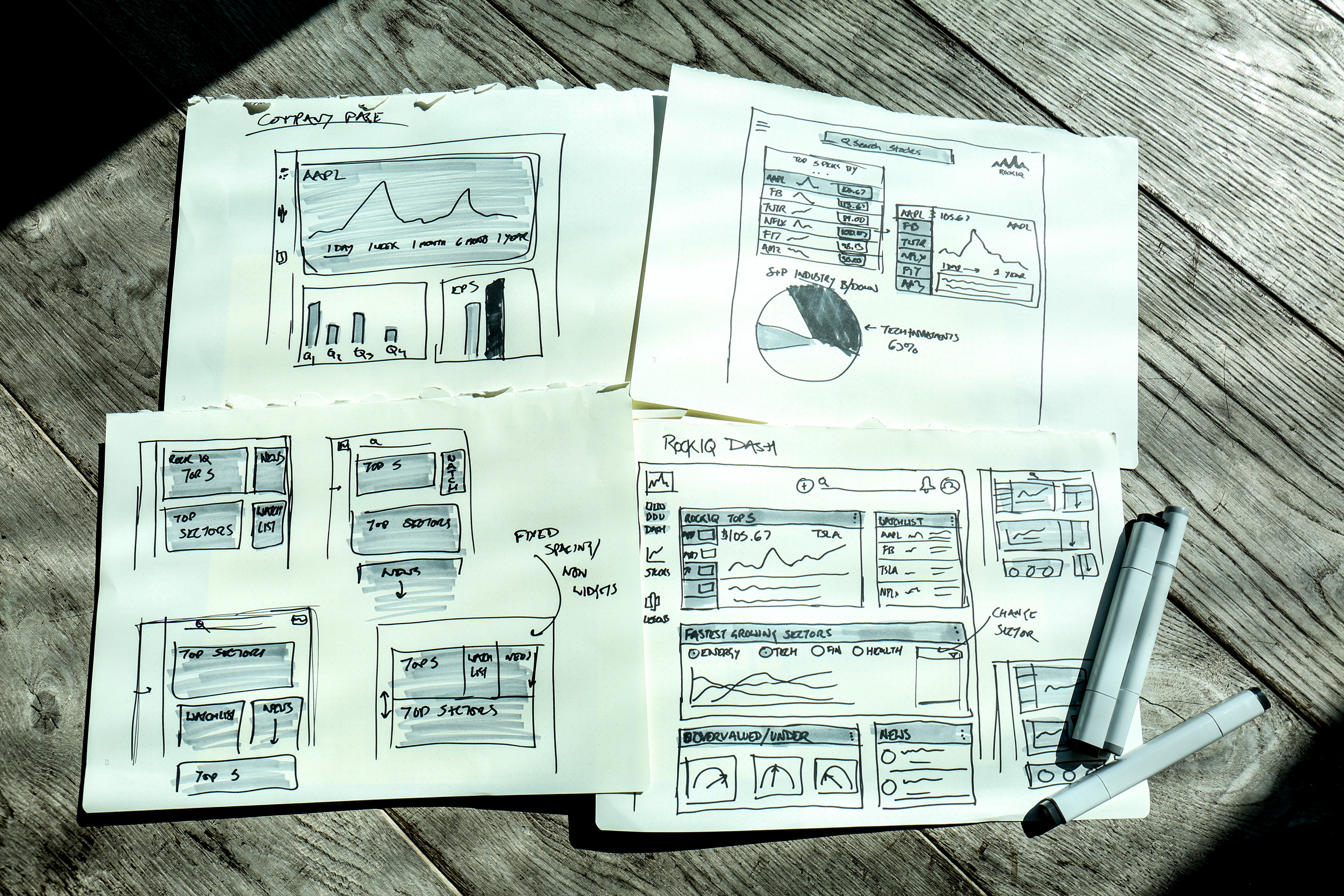 Lo-Fi:
After a divergent sketching session, the team came together to select the best ideas to take to lo-fi.  Through a strong collaborative effort, we eventually developed the designs for a dashboard and company page as shown below.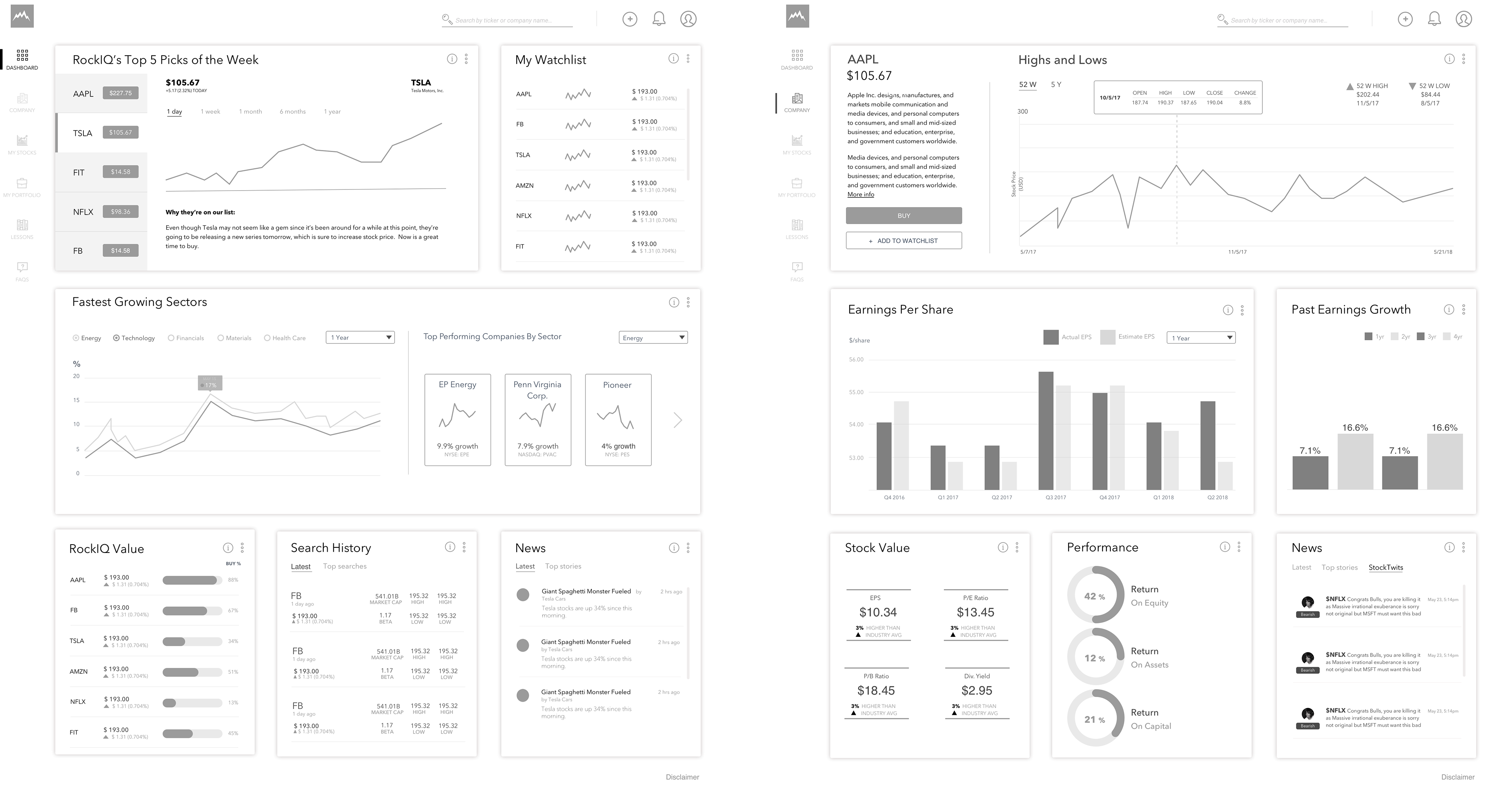 Style Tile:
Because RockIQ had no branding besides a logo, I did a mini brand sprint for the company and created a style tile for the team.  This would be used to help inform our hi-fi design decisions with color and typography, as well as other design elements.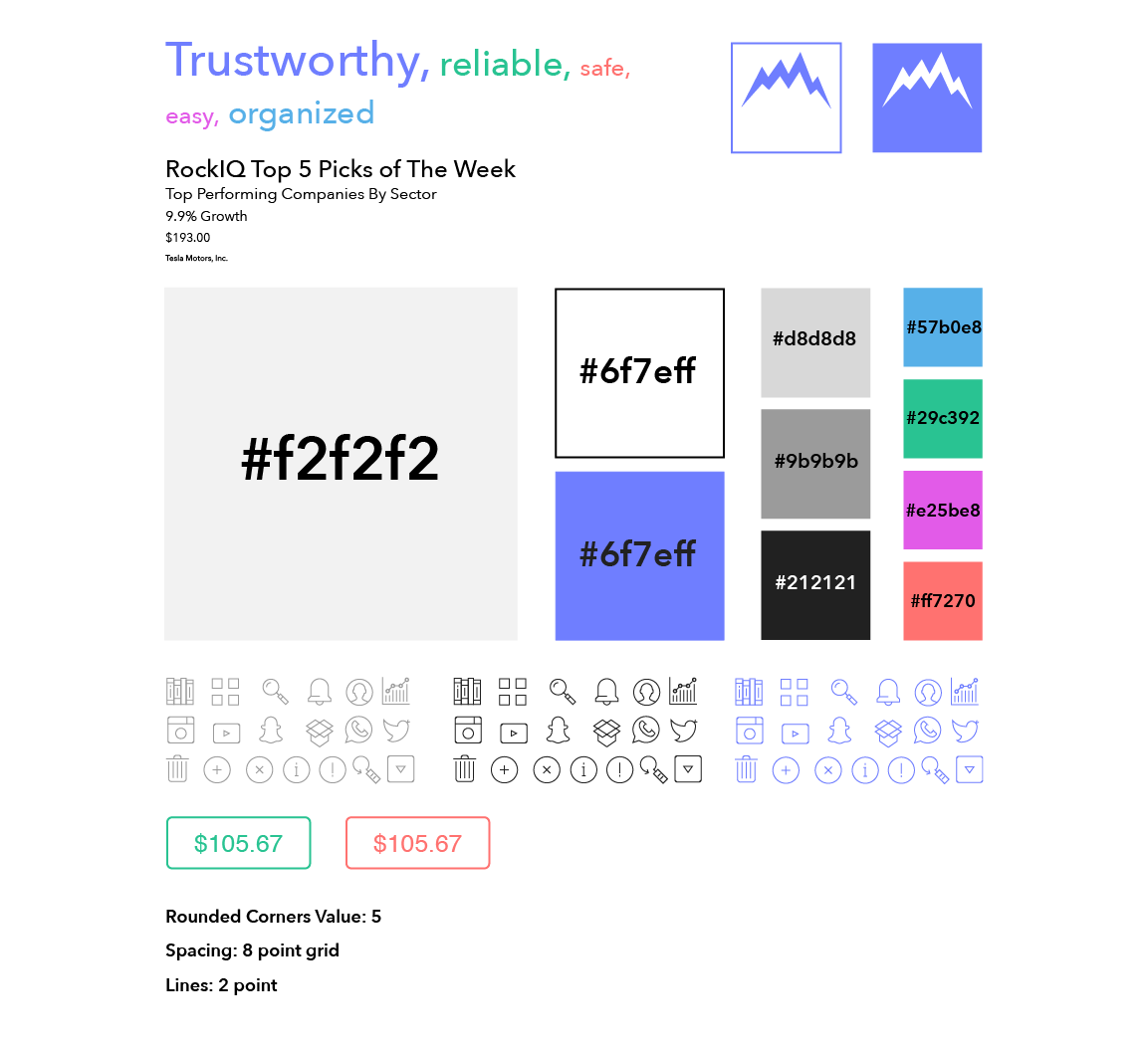 Hi-Fi:
After rounds of validation testing, iterations based on discovered pain points, and collaboration with the team, we finalized the design as shown below.
Conclusion:
Through user research, we discovered that RockIQ's UVP of social sentiment analysis did not match what our users were looking for.  After changing our direction and moving toward a product that was centered around a user dashboard with aggregated stock information, we were able to find a good amount of traction.  Our suggested design solutions aimed to give our personas guidance and validation to make stock picks quickly, while also communicating stock information clearly.  For our users this meant a much more user friendly, calmer experience - as opposed to being overwhelmed and paralyzed by too much information.  For RockIQ this meant an increase in user engagement and retention, leading to a higher customer lifetime value.